As promised a story of my build
Every meeting and motor show you see new things you like and you get ideas. Every time you need to clean the chrome on your bike you think:" I do not like cleaning my bike, I want to ride it".
Then you decide chrome is beautiful but requires too much maintenance. So that means it is time change your bike, remove as much chrome as possible and replace it with black.
You even have picture of a bike which is a good basis for your own bike with some additional own ideas. Well......you have that idea for a couple of years now but the execution.......
For years you have been dreaming about it. Customizing your first bike (see picture) which you paid from your hard earned money....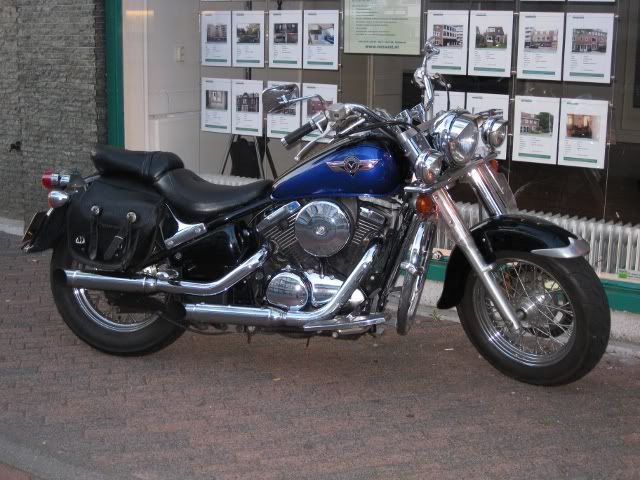 And then in November 2010 you start on it together with your brother.
Then it is time......You can not believe it.........
You have his knowledge as a car mechanic to your disposal, his basement and he even bought a bridge (also to customize his own bike), the perfect location. Dude, thanks for that!
Together we start on both bikes. He also is breaking down his bike because he also has a dream. We both have the same bikes both they will not look the same once we finished, mainly because my bro is doing some more extreme things to it. He even is adjusting his frame. So it is not weird that his bike will not be finished this winter season. This is one my targets though for the first phase. The next phase will be for one of the next winter seasons.
What do I want to do in the first phase:
• Single seated bobber style
• Fender tight over the rear tire
• Black rims with whitewall tires
• Powder coat the parts that stay on as much as possible
• Beach bar handlebar
• Bike must be black as much as possible
• More noise from the exhausts
• A nice logo for the tank and saddle
• A more leaner bike
• Different saddle and mirror
Then it is time, you start. On average I go to my brother once a week, usually directly from work. I even get good food there (my bro likes to cook). Thanks again for that one!
Also for his girl Cindy for the times she got some nice take out for us.
The first evening we made good progress
End of evening 1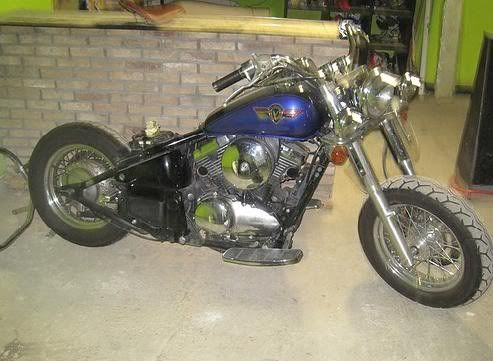 End of evening 2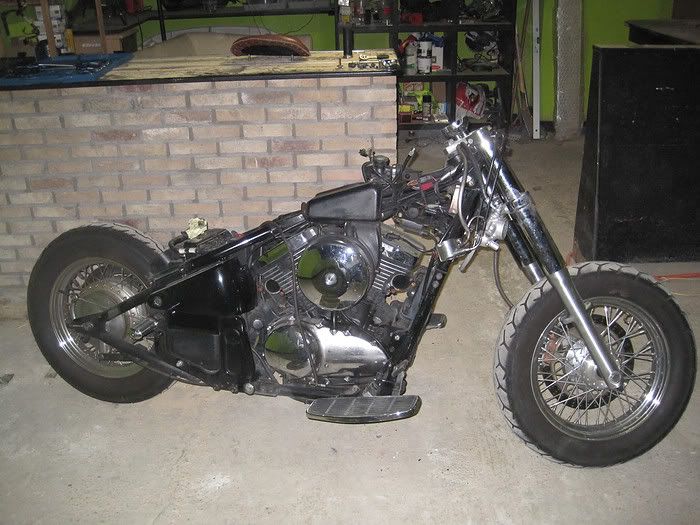 End of evening 3
After a couple of evenings work my bike looks more like a salvage bike
Then you need to plan the next actions.
We start the disassembly of the wheels because I want them to be powder coated silky gloss black. The disassembly takes a couple of hours but hey....it is part of the game.
In lunch break at work I go to Motoport Veldhoven (closely to my work) to have the tires removed. They do this as a service. I do not have to pay anything for it. WOW!
I started to search for sandblaster and powder coaters. After some visits to multiple companies, based on the conversation with these companies it seems that my parts first need to be de-chromed before they can be powder coated. Hmmm.... That sucks. After some further investigation (tank god for the internet) and some phone calls I arrive at Latour in Nijmegen. They tell me they are able do remove the chrome from my parts. That is a relieve and a step closer to my goals. Unfortunately they tell me that my wheel needs to be de-spoked because the inner part is from aluminum and this can not placed in the chemical baths for removing the chrome. A take my parts home so they can be de-spoked.
The next day I am back at Motoport in Veldhoven with my idea to have the spokes and wheels to be powder coated and ask them if they now a company that can remove my spokes from my wheels. The parts manager of Motoport Veldhoven (he helped e a lot during the build of my bike and he will appear multiple times in my story) give me the company Haan Wheels. On a free Wednesday afternoon I take my wheels to Haan Wheels in Schijndel. There they tell me they can removes the spokes and even have my wheels powder coated. Not flat black but silky gloss. So that will be the "color". I ask them if the wheels need the chrome removed first. They tell me that in some cases it must be done but usually the blaster/coater usually sandblasts the chrome of the wheels. They also tell me that if the chrome needs to be removed they go to Latour in Nijmegen (so that the second company that gives me that name). My last question for Haan Wheels is the name of the blaster/coater because I have multiple more parts that need to be powder coated gloss black. It is blaster "Stralerij van de Kerkhof" in Veghel.
Since it is close to Haan Wheels I drive there right away. I have the parts in the trunk of my car. I arrive there 30 minutes later. It is not much that needs to be coated.
• Headlight
• Radiator grill
• Foot pegs
• Parts of my rear wheel
De blaster/coater tells me that removing the chrome is not necessary. The trick of removing chrome via blasting is removing it with different speeds. Apparently the most blasters only have machines that only can blast on 1 speed. I can leave my parts and he will call me as soon he is finished coating my parts.
A week later my parts are done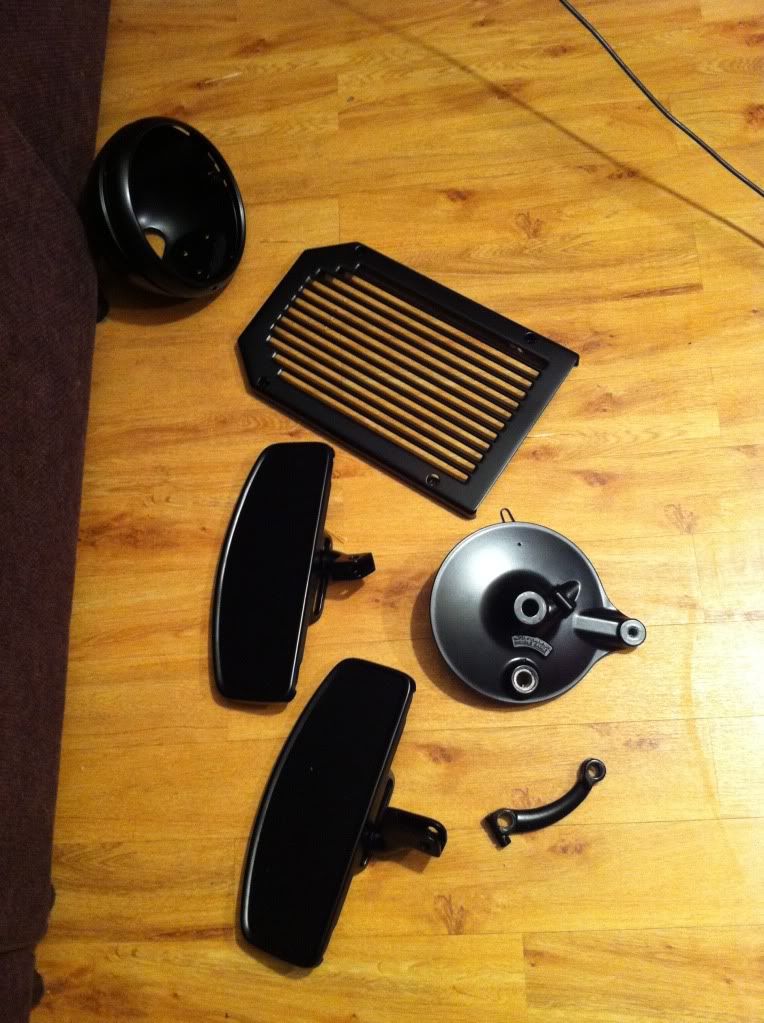 I only have to pay € 50. Sometimes I am amazed they where able to perform it for that kind of money. I am very pleased with the result because this is the first step forward!
In the meanwhile we where busy trying to refurbish our fenders to required result. After an evening of fitting and grinding we where not happy with the result we could get out of our own fenders. That is not gonna work! The motorcycle of my brother's girlfriend Cindy was in the basement as well (see picture) and it also has a tight fender over the rear tire.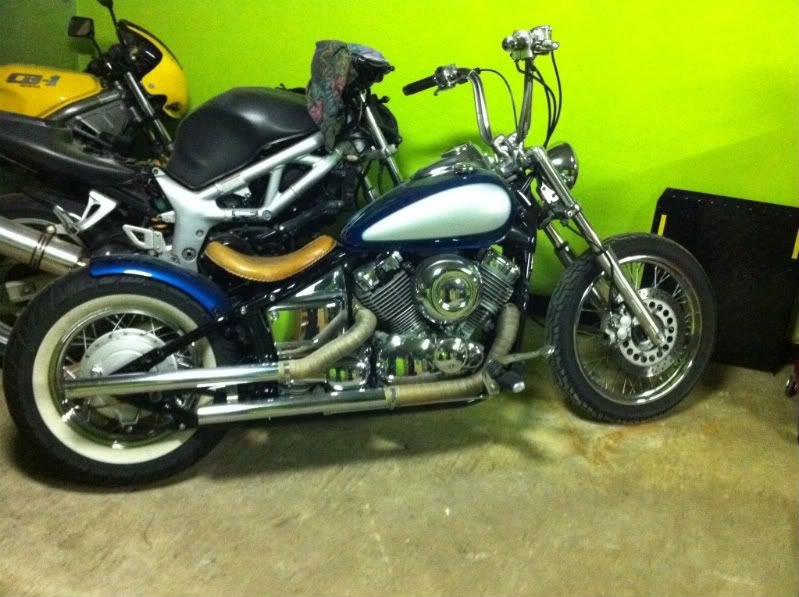 Idea; Remove the rear fender of her bike and let a metal worker copy it. After a few minutes we see that her fender is attached to her sub frame and for this idea to work we need to remove a lot of her bike. Hmmmm.... Idea; create a mould of clay from her fender? We decide to leave it at that for tonight and see if we can get other ideas. In the coming days I am very busy searching examples on internet. To my surprise I end up on an US site (www.bluecollarbobbers.com) where they sell complete sets to convert our bikes to Bobbers. They also sell rear fenders. Since they work with side struts on the fenders I first need to mail them because we do not want side struts. After some mails they send us the sets without the holes in the fender for the side struts. Great service!
A week or two later I receive a message from Haan Wheels that my wheels are finished.
Let's pick them up because this feels as physical step number 2 towards my end goal.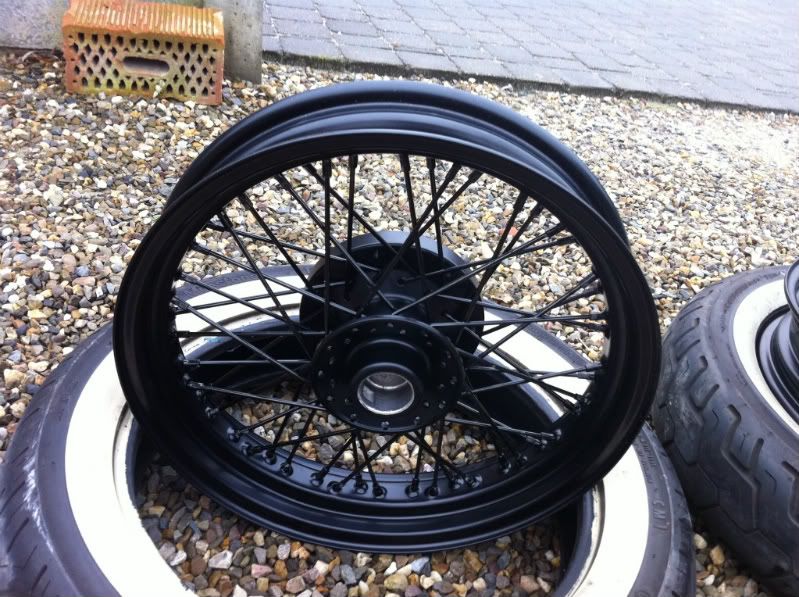 The next time I left at my brother's place I took his old white wall tires home to have them placed on my new rims. Off course I will let Motoport perform this since they have helped me a lot. With two new inner tubes and a small assembly fee. Nice, next time I will go to my bro we can assemble the wheels! I also take some new handles which where on sale for €15. What a luck!
The following evening when we are working on my bike we find out that we did not dissamble the wheels correctly. There is still a small part in the wheel that is melted during the bake part of the coating process. At the end of the evening we where able to remove it. That evening I also want to assemble the handles but when I get them out of the packaging I see that critical part is broken. Damn.... Another evening "lost". Tomorrow of to Motoport again in my lunch break. I received great service again there. The handles that where on sale are no longer available. Therefore I get a refund and I receive a 50% (!!) discount on their normal stock. I think it is obvious I am happy with service of Motoport and especially the parts manager. I also buy new blinkers.
The weeks fly and 1 evening a week is not a lot. It is already christmas. We have done as much as possible but we now have to wait for the rear fenders. In the meanwhile I also have to leave to US/Taiwan for two weeks for work. I keep a close look on the delivery of the fenders which I can track via the internet. They are delivered via Moskou(!). The fenders stay there for a couple of days. At NL customs they also stay for some days because the dutch government also want a parts of this in taxes as wel.... Shortly after my trip the fenders arrive.
In the meanwhile we finished the frontside of the bike.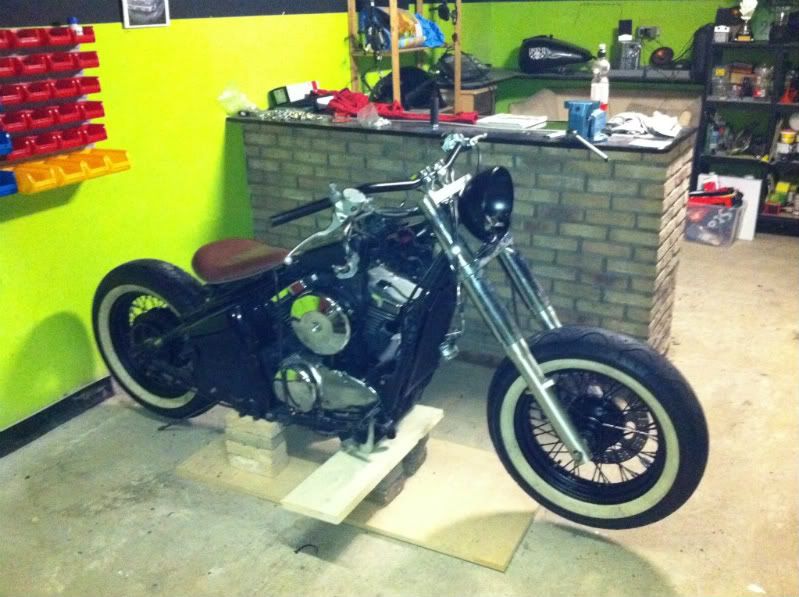 Mirror on (bought on the Bigtwin convention). Handlebar on (old one from my bro).
Headlight on. Then I try to fir my handles again but they do not fit. They are just short of 1 inch. And back again to Motoport for other handles. Now we ordered new ones and luckely these fit.
The wheels are now assembled and off course the front wheel is already in. We can now start to focus on the rear fender and how we want assemble it (without side struts because we really do not like them) on the bike. I know how I want the fender but the fender is to weak for the current assembly point without struts.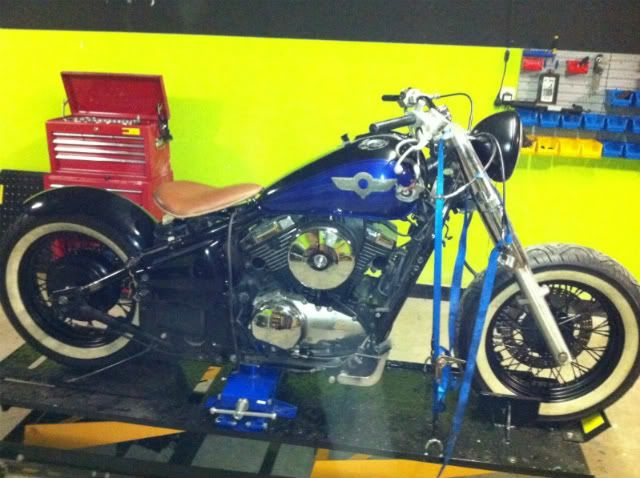 So the idea is to have some steel strips welded on the inside of the fender. There they tell us it are aluminum fenders. So no steel can be welded on the inside.
So I start calling again. I end up at the dutch welding institution (NLI). There are some possibilities to weld alumium to steel (explosion welding) but not the other way around. Their proposal is to use construction glue.
We now have the construction points done for the new sadle (also bought during the Bigtwin convention). Another evening of work. The sadle can be sent to the upholsterer.
The rear fender is at a grinding halt. The required construction glue can only be ordered in large numbers. So back to the drawing bord. In one night we where able to attach the fender to a second point. Great! Now the fender and the tank can go to the bodyshop and the airbrusher. The body work and paint is handled by a friend of mine that works at Bekkers bodyshop in Eindhoven. The airbrushing is handled by Cindy, the girlfriend of my brother. Since she is studying airbrushing she handles it via her contacts.
The sadle is upholstered by Schipper Biker en Indian store in Lommel (BE). They have a nice shop with a bar at home. It is situated near the woods and a lot of bikers stop there for a drink.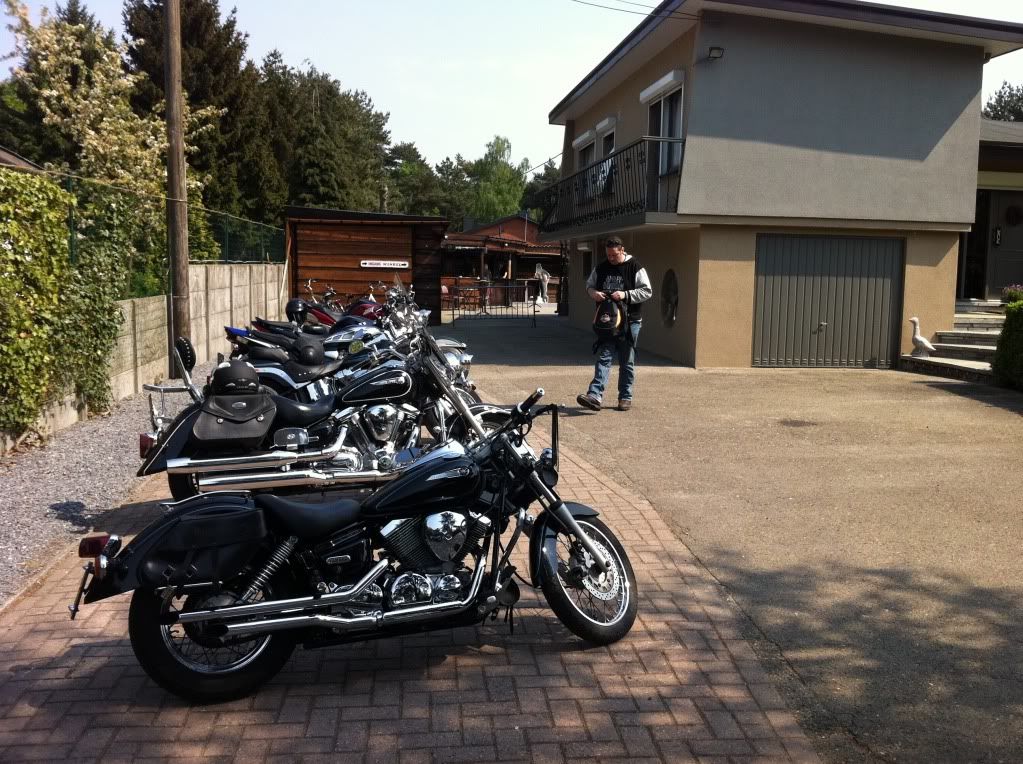 In the time it took to get my sadle upholstered we finished the electronics and decided how and where the sidemount would go. For the sidemount we used an existing point but it super fine tread inside. I bought a black bolt for it at Fabory in Eindhoven for €7.50.
The end of the built is getting near. We are now waiting for the tank and the sadle.
The sadle is finished. See the result.
We are now waiting for the tank. The bodyshop is making progress.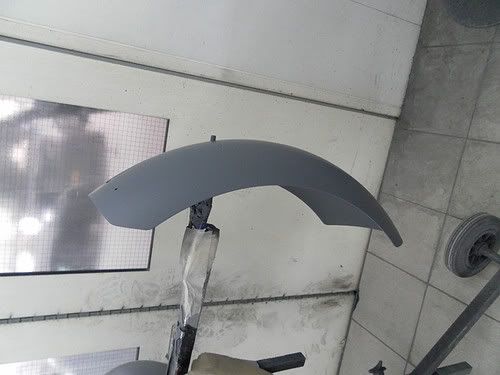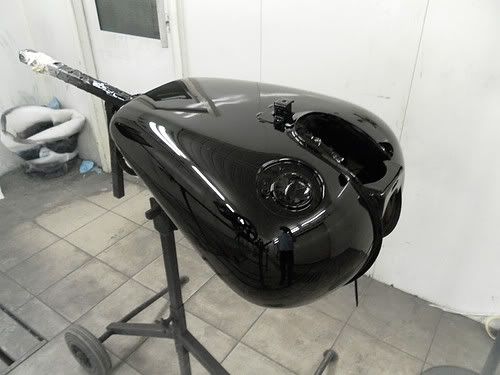 After a week I can take the tank to Cindy to get it airbrushed.
Unfortunately is the person that creates airbrush templates on holiday but after 2 weeks the airbrush is on the tank.
The tank can now go back to the bodyshop for the last finish.
Two days later I can pick up my tank and fender.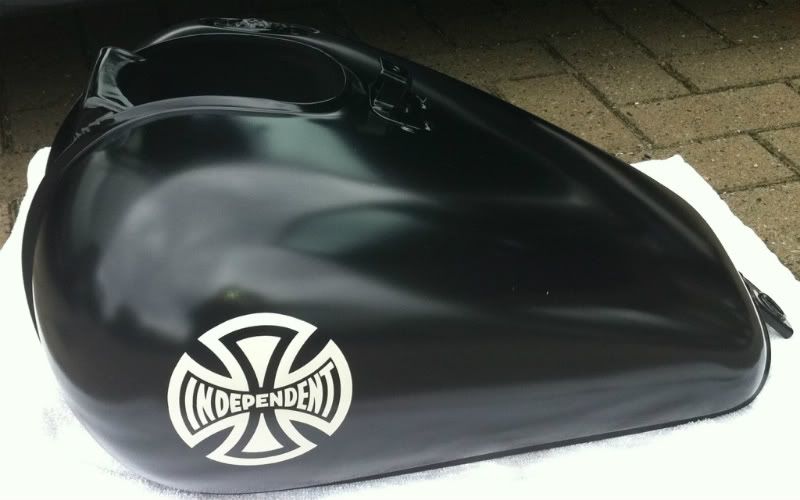 Thursday night we start with assembly again. We start on the rear. When it is assembled we encounter a problem. The chain was not on the bike during mock-up. Therefore we need to remove a part of the rear fender. We call it quits for tonight.
On Saturday we continue and bit by bit the puzzle is coming together.
- remove a part of the fender
- painting the cut part of the fender, a brackt and the exhausts
- assemble the back
- assemble the exhaust
- assemble the tank
- assemble the sadle
- START HER UP!
What a moment! Phase one is finished.
The gap below the sadle needs to be done but I need to order a bracket for that in the US.
Wat een moment was dat! Hij is af.
All in all it took me 60% of the time in calling, searching on the internet, bringing stuff and picking stuff up. The rest was spend on phisically working on the bike. But here the result You can aslo watch some movies on YOUTUBE by searching on "hakkerinc":